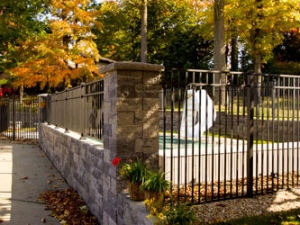 Are you thinking about adding an aluminum railing fence to your property? Aluminum is renowned for being a strong, durable material. Aluminum is not only lightweight, it also protects against rust and corrosion, making it a wonderful investment for home and business owners. Let's check out some of the other benefits of aluminum railings.
Aluminum Railings Are Available in a Variety of Styles
Undoubtedly, aluminum railings provide an elegant exterior focal point because of their sleek appearance. Whether you choose to have a more modern or traditional look, aluminum railings provide owners with many options to choose from, including different colors, textures and designs.
Aluminum Railings Are Versatile
Aluminum railings can be used for a wide range of purposes. Whether you want a beautiful safety and decorative fence around your pool or you own a restaurant and need an elegant look for your patio, aluminum railings are an ideal choice for home and business owners.
Aluminum Railings Are Safe and Require Low Maintenance
Unlike other structures, aluminum railings will not rot and decay, or crack in the cold, meaning you won't have to worry about corrosion, rust and other deterioration that could make your fence unsafe and unsightly.
Aluminum Railings Are an Environmentally Friendly Option
Without question, aluminum railings will stand strong for decades. However, when it's time to remove and replace the one on your property, aluminum fences are fully recyclable, and won't just sit wasting away in a landfill.
For those reasons and more, aluminum fences provide home and business owners with a strong ROI on their investment. If you're in the market for superior fencing solutions in the Uniontown, PA area, contact All Around Fence today.