CHAIN LINK
This fence is the most economical and widely recognized type of residential fence. It is ideal for yards, pet containment, pool enclosures, playground and recreational uses.
Heights available in 3 ft., 4 ft., 5 ft. and 6 ft. Four and six foot heights are the most popular.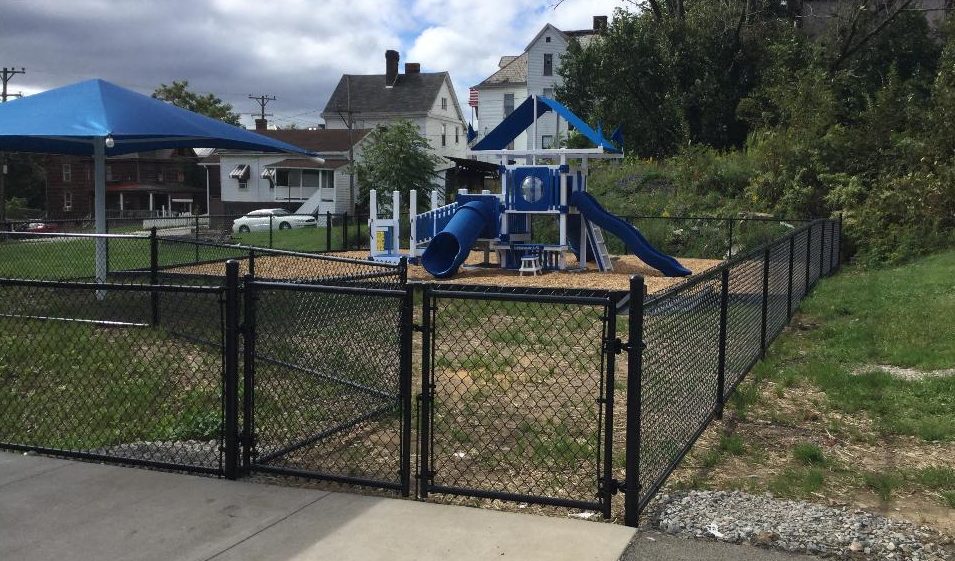 Chain link fence is available is several different coatings and gauges. The coating is how the steel wire is finished. The three types of coating is aluminized, galvanized or vinyl. Aluminized and galvanized coated chain link is silver in color. Vinyl coated chain link is available in green, brown, black or white. The gauge of the wire measures it's diameter an indication of its strength. The lower the gauge the stronger the chain link.
Chain link gauges are:
6 – extreme heavy duty in aluminized, galvanized and vinyl coated
8 – heavy duty for vinyl coated wire
9 – heavy duty in aluminized & galvanized
9 -medium strength for vinyl coated
11 – medium strength for aluminized & galvanized
11 ½ – light weight in strength and the diamond mesh is larger at 2 ¼" instead of 2" found in heavier gauges
We recommend 9 gauge aluminized coated chain link fence or the 8 gauge vinyl coated chain link for pet containment. Lighter gauges are easily bent and allow a dog to push under the fence by bending the wire. If you can bend the wire with your hand, chances are your dog would be able to bend it also.
The framework or pipe used on a chain link fence system is also available in various strengths or wall thickness. To the Do-It-Yourselfer we recommend at least a .065 wall or 16 gauge on all pipe. Our residential installation preference is .085 wall on our line posts, .095 wall on our terminal posts and .065 wall on the toprail. The wall thickness of the pipe determines the longevity of your fence framework. The heavier the pipe the longer it will last.
VINYL COATED CHAIN LINK
These fence systems come in green, brown or black blend nicely with the landscape. An all black vinyl system is referred to as the invisible fence because it disappears into the surrounding landscaping.
PRIVACY SLATS
Come in either vinyl or aluminum can be added to a chain link fence to create a privacy fence. They are available in a variety of colors; green, brown, beige, grey, white, redwood, black. Ideal for the Do-It-Yourselfer since they are installed after the chain link system is erected. They can be installed immediately after a fence is erected or years later.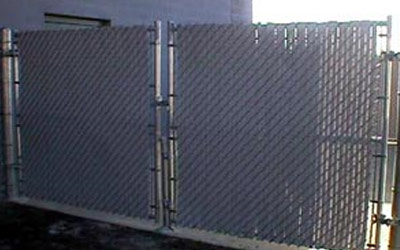 ORNAMENTAL FENCE
These are decorative fences made of either aluminum or steel. It is maintenance free and comes in a variety of styles and colors. There are many accessories available such as rings, finials and scrolls to further enhance the beauty of an ornamental fence. There are styles designed specifically for swimming pool enclosures. The special construction is pool code compliant with several heights and designs and with matching gates with self closing hinges and locking gate latches.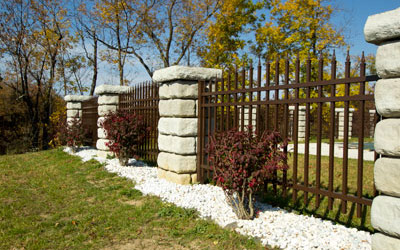 VINYL FENCE (PVC)
Maintenance free
Lifetime Warranty
Variety
These qualities have made vinyl or PVC fence a favorite among busy homeowners. It is especially popular for swimming pool enclosures with a variety of styles offering decorative and privacy enclosures. Matching gates with self closing hinges compliment every style. Standard colors are white and almond. Select styles are available in clay and darker earth tone colors.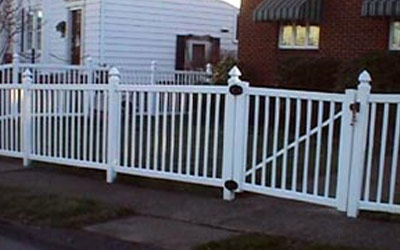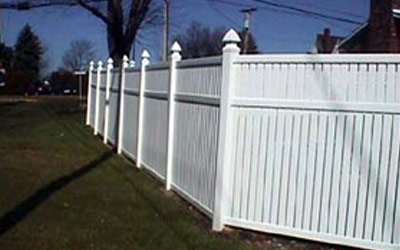 PVC railing and decking can now complete the maintenance free home.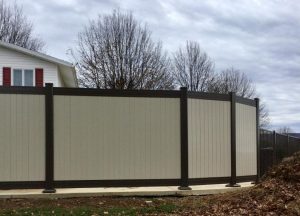 Post & Rail PVC is available in 2 rail for decorative purposes and also in 3 and 4 rail ideal for horse pasture fence.
WOOD
Wooden fence in picket or privacy panels offers a rich rustic look to any property. We use Western Red Cedar since it has a natural long life and doesn't warp easily. Wood panels are built in 8' long sections, with 2"x4"x8' stringers with pickets double nailed to the stringers with aluminum or galvanized nails to prevent streaking. The posts are 4"x4" Pressure Treated Pine and cemented in the ground. We often build the panels on site to accommodate a yard with a grade rather than step the panels.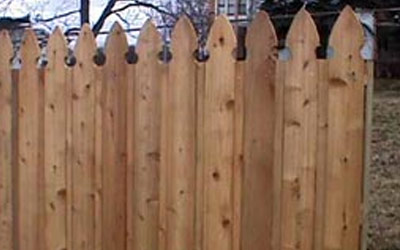 Split Rail fence with mixed hardwood rails and pressure treated southern yellow pine posts is available in 2 and 3 rail styles.