Putting up a chain link fence is one of the most economical ways to create a border around your property. Whether you are installing one around your backyard to protect your kids and pets and keep them safe or installing one around a job site so that no one can access it and get hurt or steal your construction materials, chain link fences are an excellent option for those looking for fencing. However, before you settle on a chain link fence, you should consider the different gauge sizes that are available so that you can pick the one that works best for your specific purposes.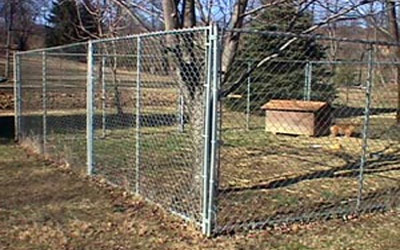 The gauge size of a chain link fence refers to the diameter of the wire that is used to make the fencing. The gauges of chain link fencing range from 13 down to 6, with the most common gauges falling in the 11-1/2 to 9 range. The lower the gauge number, the stronger the material is. For example, a 6 gauge is approximately .192 inches thick while the 12-1/2 gauge is 0.99 inches, and you will typically be able to get a rough idea of what the gauge of a fence is just by looking at it. If the wire that is used forms a pattern that includes very small diamonds, the gauge is likely a lower number, while gauges with a higher number will feature larger diamonds.
In addition to choosing the gauge that suits your needs best, you should also consider the height of the chain link fence you need. You should also look the amount of zinc that is used on in the construction of the fencing material. Zinc is commonly used to protect chain link fences from corrosion, wear and rust from exposure to the elements. Vinyl coating is also a common choice, not only for protection, but also to make fences more aesthetically pleasing, and at All Around Fence we offer a selection of green, brown and black coated fencing to choose from.
All Around Fence carries a range of different fences for both residential and commercial use, and we would be happy to walk you through your options to help you select the right fence for your home or business. Call us at 724-439-0331 or stop by our store today to check out our available fencing options.