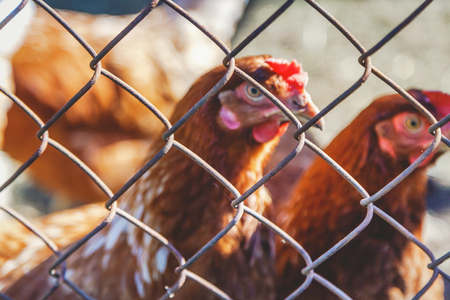 Do you have a couple of chickens out back in a coop? If you do, or if you're thinking about adding a few chickens at your home to provide a supply of fresh eggs all year long, All Around Fence has everything you need. We have all the fencing and supplies to get you started and to make successfully raising small livestock in your backyard a breeze, whether it's chickens, hogs or goats.
If you're new to the small livestock arena, you may have guessed that to keep a couple of pigs, chicks or goats comfortable in your backyard, you're going to need a bit of equipment. Find everything you need and get help picking out the right products and supplies from our team.
The first thing you'll need to start with is a pen for your animal. The size and type of pen space that you'll need will be determined by the type of animal you have and how many of them there are. For example, chicken coops need to be much larger to accommodate more than just a couple of birds and provide enough space for them to roam and graze. We offer a full range of fencing so that you can create as large a space as you need with pre-built pens as well as posts and chicken wire fencing available.
Next, you'll need to think about how to provide food and water for your animals. We have different types of feeders, as well as livestock water systems. An automatic water system provides cattle, horse, sheep, goats and hogs a reliable source of flowing water even when conditions are exceptionally hot and dry or cold and freezing. With a watering system, you'll never have to worry about schlepping buckets in bad weather.
Once you have those two things established, you'll need to order some feed for your livestock. We offer buckets, feed pans and hay racks, and even Nutrena livestock feed and pet feeds to keep your animals happy and fed. We also provide fly strips and other control products to help keep pests at bay, allowing you to have healthy and productive animals.
Take a look at our available farm products online now or stop in and talk with us today. Our staff is always happy to help, and we've conveniently located right off National Pike in Uniontown. Visit us today or call us at 724-439-0331 to learn more.