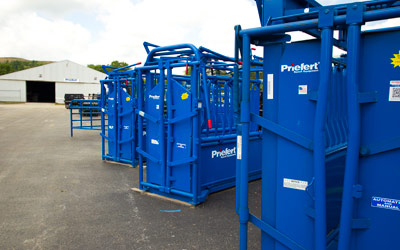 All Around Fence is proud to offer quality products from Priefert Ranch Equipment, including headgates, corral panels, creep feeders, farm gates and horse stalls. Did you know Priefert Ranch Equipment is an industry leader when it comes to livestock handling equipment? Meanwhile, their products are made in their Mt. Pleasant, Texas facility– so you're getting American-made products, rather than imports from China or elsewhere.
So what makes Priefert Ranch Equipment special? Why should someone buy their stuff?
The Unique Story of Priefert Ranch Equipment
It goes back to their origins. Back in 1962, a man named Marvin Priefert purchased 300 acres of land in Texas, which ultimately lead to the development and growth of the Priefert Ranch. Marvin was both a farmer and an inventor. He didn't plan on becoming a rancher, but after working with his neighbor herding cattle, he became one. Furthermore, he noticed that the headgates of the day were either guillotine or swinging-door style– both of which had "problems and challenges." Marvin decided to invent a better headgate. In 1964, his gliding-action, walk-through headgate became a reality, and now, in 2018, his concept dominates the market!
Marvin decided to acquire more land and develop more innovative equipment for ranchers. Over the years, the family's acreage grew to include approximately 3,000 acres in their little part of Texas. On the ranch, the family has handled cross-bred and pure-bred cattle operations, as well as a quarter horse breeding program.
As a family operation, Marvin had a lot of help from his son. Then came two grandsons, followed by seven great grandsons, ensuring that the family business could/would continue long after Marvin's retirement. Ultimately, Priefert products are "built by ranchers for ranchers."
Before a product goes to market, it gets tested at the Priefert Ranch. Over time, it can be observed and modified. Ideally, whatever Priefert offers for sale should make daily ranch work easier and more efficient. And their products do just that!
Finally, the ranch offers a setting for "Priefertization," where people who sell Priefert products can come and see how things are made from start to finish, so they know all about what they're selling. It really helps to see products in action, on a working ranch.