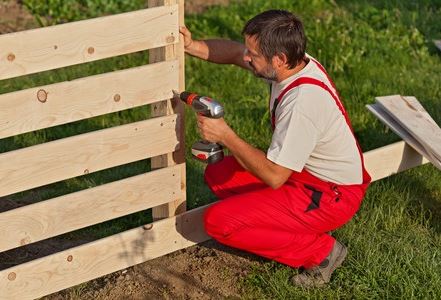 In Pennsylvania, where All Around Fence is located, it would be highly unlikely that an alligator would find its way into someone's backyard pool. In Florida? It's almost normal in certain places. In Pennsylvania? Not so much. That said, certain local critters might end up drinking from a pool or even taking a swim, if there's no pool enclosure fence to keep them out.
What are some other reasons to have a pool enclosure fence?
Safety and Security
Safety and security are the two keywords that come to mind. A fence keeps kids and pets out of places where they shouldn't be, unless they're being supervised by a responsible adult. Pool fences should be at least four feet high, though five feet is ideal. As for the gate on the fence, it should be self-closing, self-latching and lockable. Too many kids have died in accidental drownings– in pools that haven't been fenced. Don't let your kids, your grandkids, or your friends' kids become a statistic. Losing a child to a pool drowning is devastating to families.
Preventing Tragedies
Pool fences help prevent accidental drownings. Did you know that the Center for Disease Control (CDC) found that drowning is the second largest cause of death for kids under 14? Most of those drownings occur in residential pools! The CDC also found that having a swimming pool enclosure fence reduces the potential of childhood drownings… by 83%. That is significant.
Customizable Options
With regards to pool safety and security, pool fences are a cost effective way to safeguard members of your family as well as visitors to your home and yard. These days styles and options are customizable to the point where they'll fit right in with the architectural styling of your house, and look exactly the way you want them to.
Privacy and Peace of Mind
Don't want your neighbors or random strangers sneaking into your pool when you're not there? The fence will keep them out.
Finally, the main reason to have a pool enclosure fence is for peace-of-mind. Rather than worrying about accidental drownings even happening, isn't it good to know the fence is up, it's locked, and no little one is able to get in there on their own?