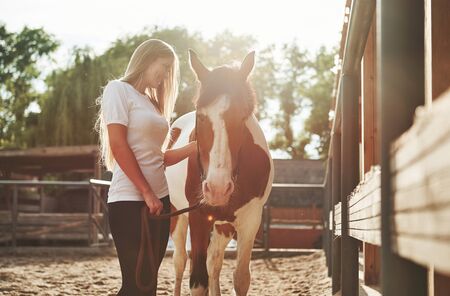 All Around Fence Co. is well known for selling fencing, of course, which definitely helps define boundaries for horses and other animals. But did you know we also sell a variety of farm products, including DAC Horse Supplements?
Nutritional Needs
What are the benefits of having supplements for your horse? Well, most horses get most of their nutritional needs met thanks to a natural grazing diet– but not all of their needs… not all of the time.
A lot of it depends on a number of factors. Take, for instance, the pasture quality. Is it rich or poor? If it's poor, supplements will help horses. Maybe your pasture is missing a lot of grass. Or a fire/flood came through and messed it up. In this case, supplements help horses meet their nutritional needs.
Unique Needs
Speaking of needs, horses are like people and other animals– they have different stages of life. At certain stages, they might need different things in their diet. Take, for instance, a horse that's pregnant. She could benefit from supplements. How about a horse who is sick? Or one who is recovering from an injury? These are two more reasons supplements make sense.
What about feed prices? Sometimes prices are just too high for your budget… and when that happens you can utilize supplements to enhance lower quality feed.
Particular Conditions
Other times horse supplements might come in handy include when a horse has a health condition like arthritis, colic, or poor hoof growth. What about activity level? For horses in training for competitions, supplements can, perhaps, give them an advantage over their competition.
It's best to consult your vet and examine each horse's exact nutritional needs. Then ask about adding supplements to their diet(s). Ideally, you just want to ensure having healthy, happy, strong horses!
For more information about DAC Horse Supplements, please call All Around Fence Co. at 800-349-0331 or email allaround@allaroundfence.com. DAC Horse Supplements have been around since 1983, bringing vitamins and minerals to millions of horses. The DAC company is a founding member of the National Animal Supplement Council (NASC) and was one of the first companies to earn the coveted NASC Quality Seal. We sell horse supplements along with other farm products.